Reviewed by: https://yourdronereviews.com/fimi-x8-mini-drone-review
The Fimi X8 Mini is a fantastic little drone that is fun to fly and suitable for drone photography and comes with intelligent flight modes, a feature that is not available with the DJ Mini 2.


It's a small and lightweight drone that weighs less than 250g and comes with some fantastic features. The drone comes with an excellent camera that can capture images in 12MP in both JPEG & RAW format and records video footage in 4k at 30fps. The camera is stabilised by a 3-axis gimbal for smooth and stable videos and transmits live video feed in 720p. Its GNSS module can connect with 3 satellite systems for better coverage, and it comes with 3 GPS-enabled intelligent flight modes. It also has a very good flight time and has a control range of 8km.

Fimi have released several advanced drones and the most popular is their Fimi X8 SE, which comes with some amazing features and is a direct competitor to the DJI Mavic Pro.
The Fimi X8 Mini drone comes with many similar features but comes in a more compact and travel-friendly design and weighs less than 250g.

The first thing you will notice is that the drone is very similar in design to the Mini 2, which is a good thing as it is very aesthetically pleasing to the eyes. Its small compact and foldable design allows you to easily carry it around with you and makes an excellent choice for a travel-friendly photography drone.
One thing I have to note is that there two types of batteries that are compatible with this drone. The standard battery which you get the drone package is a lithium-ion battery that provides a flight time of around 30 minutes, which is pretty good.
The Pro battery is a lithium polymer battery which more energy efficient, provides a minute longer flight time, and puts the overall drone weight at 242g, which will not require any registration.


The drone has a triple GNSS module that connects with GPS, GLONASS & BeiDou satellites system for far greater coverage and the ability to track the drone on your smartphone with better accuracy. It also allows for the drone's flight to be more stable and allows the drone to fly autonomously via its intelligent flight modes.

As the drone can connect with so many satellite systems, it will be rare that you will find an area that has a weak signal, however, the drone also comes with an optical flow sensor that will allow you to fly the drone if there is no GPS signal. As it is a very small drone, you can fly it indoors, however, make sure the area is large and spacious with little to no obstructions.


There is a memory card slot on the back of the drone, it advised that you purchase a fast memory card, preferably U3 or above. This is so that you can record 4k video footage, which you will not be able to do if you were to record videos over WiFi on your smartphone. Also, something else worth noting is that the card will have to be formatted to the FAT32 file system so that it records properly.

There is a small LED light on the back of the drone that will flash in certain ways to indicate things like compass calibration, low battery, internal error, ready to fly, and if its firmware is being updated.

Despite being a small and lightweight drone, the Fimi X8 Mini actually holds up well in windy conditions. One of the reasons for this is because it comes equipped with powerful brushless motors that have a high KV rating and allows for the drone to hover relatively well, fly smoothly, and fly at a top speed of 35 mph.

As for the drone's remote controller, it follows a similar design pattern to the original Fimi X8 controller but this one is a lot smaller. To attach a smartphone, the left-hand side of the controller is extended which allows you to slot a large smartphone in the middle. You can fly the drone without a smartphone but then you wouldn't get access to the drone's FPV feature or its intelligent flight modes.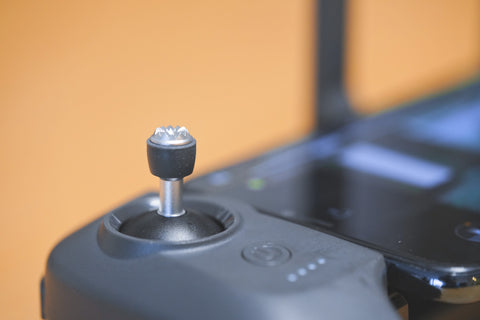 To access these features, there is a new app that has been developed specifically for the Fimi X8 Mini drone. It's called the Fimi Navi Mini and Its interface is very clean and easy to navigate and allows you to control many aspects of drone flight as well as give you more control over the camera settings.
There is no doubt that one of the main driving factors of the popularity of drones is because many of them come with very good cameras. The Fimi X8 Mini drone is no different, its camera is one of the best in its price range and is comparable to the DJI Mini 2.

Overall, a very impressive drone camera and definitely one of the best in its price range. Something you have to remember is that you will need a fast memory card to record videos and photos in their highest resolution.
This is where the Fimi X8 Mini has an advantage over the DJI Mini 2 and may be the reason why many people will opt to get it instead of the Mini 2.