Reviewed by: https://xiaomiplanets.com/new-version-of-fimi-x8-se-2022-v2-2/
The new version of the FIMI X8SE 2022 V2 drone brings an interesting module for goods transfer. It also includes a megaphone for recording sounds.
A popular Chinese company FIMI brings a new version of its drone with the designation FIMI X8SE 2022 V2. Its equipment also brings a unique module for the transfer of various goods and a separate remote control.

FIMI X8SE 2022 V2 specifications:
Powerful level 8 wind resistant motors
4K camera with 48 MPX 1/2 SONY image sensor CMOS and 3-axis mechanical gimbal
Intelligent flight modes (intelligent tracking, flight planning, circular flights, timelapse,panorama and SAR)
HDR video and photo modes
Battery life up to 35 minutes
Communication RokLink 3rd generationwhich provides reach up to 10 km
Goods placement module (weight up to 200 grams)
Megaphone function (up to 100 meters)
4500 mAh battery

FIMI X8SE 2022 V2 Drone based on basic model X8SE 2022, with which it shares identical technical specifications. It measures 204 x 106 x 72,6 mm (folded) and weighs 765 grams (including battery and propeller). The remote control measures 203,8 x 91 x 46,6 mm and weighs 373 grams. It also has a module for placing goods on the bottom.

The equipment is improved 48 MPx CMOS sensor (79 ° aperture, f / 1.6 aperture) from Sony with 3-axis gimbal and HDR video support. There is also a powerful engine with resistance to wind, rain and snow.

The drone reaches a maximum speed of 18 m / s, an ascent speed of 5 m / s and a descent speed of 4 m / s. You can store your images on a microSD memory card (up to 256 GB).

In terms of flight modes, intelligent tracking, flight planning, circular flights, time-lapse mode, panorama and SAR mode are available. It uses technology for accurate navigation GPS + GLONASS + BEIDUO.

It's a big benefit area for placement of goods. The module for this purpose is located on the underside and has an attachment to specific pins. The drone can release the goods up to 200 gramswhich carries this removable module and is specific to this V2 version.

In addition, it is supplemented by a function megaphonewhich can be used to play voice messages, loops or messages up to a distance of 100 meters.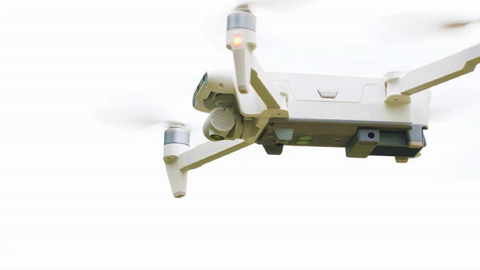 The 2022 V2 edition, like its predecessor, is also battery powered 4500 mAh / 51,3 Wh, which provides endurance up to 35 minutes at 8 m / s (29 km / h). Remote control offers 3900 mAh battery, and a range of up to 10 kilometers.

In the sales package is the drone itself called FIMI X8 SE 2022 V2 (with carrying module) as well as numerous accessories from the manufacturer.
There you will find a battery, a remote control, a battery charger, a set of propellers, three USB cables and a network cable. There is also a brief manual for use and initial setup of the device, in English.