How to pick the best beginner drone for you-----from:https://www.techradar.com/best/best-beginner-drones
Beginner drones come in a wide range of shapes and sizes, but the best ones all share a few key features. If you're just starting out, then a polished companion app will be invaluable – some of the best we've tried are from DJI, Ryze and FIMI. A drone that's happy to hover in place will also allow you to carefully learn the controls and assess how sensitive it is to control inputs.

If you're looking for a beginner drone with a camera, then bear in mind that you'll need to spend a bit more to get genuinely usable footage. Look for a camera that has at least a 1080/30p mode to get a really high-quality camera.

Think about where you're most likely to fly the drone, too. If you're happy to stay indoors or in sheltered spots near your home, then a small, toy model (like the Ryze Tello or Revell Icon) will be fine. But for more ambitious flights, you'll need a drone that can both withstand gusts of wind and a few crash landings.

Drones of any size will always be measured up against the best that DJI has to offer.Fimi's X8 Mini could be the perfect entry-level 4K drone. It's slightly cheaper than the Mini 2, yet offers many of the features that make its flying rival a winner. Light enough to fall within the sub-250g category, the folding quadcopter is properly portable (as is the well-designed remote, thanks to thumbsticks that unscrew and tuck into the base).
Despite its compact size, the Fimi flies well in normal conditions and can also survive blustery weather. At 30 minutes, battery life is solid, while 4K footage captured at 30fps by the 12MP Sony CMOS sensor is sharp and stable – in large part thanks to the 3-axis mechanical gimbal which keeps things steady. The companion app is simple but effective, too. So why doesn't it topple the DJI Mini 2? While the all-round package is compelling for the price, it's not quite as polished as DJI's effort. You don't get forward-facing collision sensors, either. But if for any reason you don't want a DJI drone, the Fimi X8 Mini comes home in a convincing, and more affordable, second place.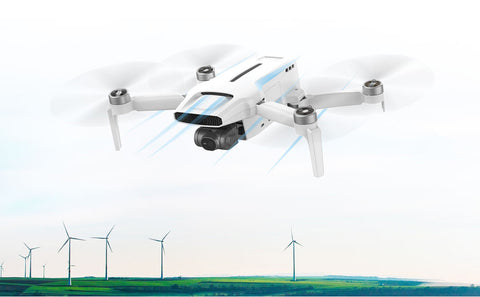 How we test beginner drones
When it comes to beginner drones, their usability and flying importance is just as important as their cameras – so we place equal emphasis on both during our testing.
To test the former, we run through their stabilization in the air, overall responsiveness and their top speed. Most beginner drones lack obstacle avoidance powers, but if they do have them we fly them though an obstacle course to see how well they work.
After checking the drone's battery life claims based on real-world flights, we then move onto their cameras. Most beginner drones have small sensors that struggle in high-contrast situations, but we fly them through a variety of lighting conditions to see where their breaking point is and in what conditions you can realistically expect usable footage.
We then evaluate their footage, taken at a range of frame-rates, on a calibrated monitor, alongside some of the drone's sample still photos. When it comes to image quality, we look at detail, sharpness across the frame, and high ISO noise handling. We then combine these results with our overall impression of the drone's design, features and value to produce our final verdict.