Foldable, Waterproof and powerful in many ways, the FIMI X8 2022 is a compact drone with big features
The new Xiaomi FIMI X8SE 2022 is not a game-changer drone but still comes with significant improvements over its predecessors. It has a better camera with a bigger image sensor, upgraded transmission technology and an optimized propulsion system. One area where FIMI is still behind DJI, however, is the lack of an obstacle avoidance sensor. In 2022, probably all drones over $300 will have this kind of safety feature.
Back in 2018, Fimi announced their first foldable camera mode, the X8 SE. Its design was so successful that, after 4 years, the 2022 edition looks almost the same. If you put them side-by-side, it is hard to make a difference. They are even using the same type of 11.4V/4500mAh battery and quick-release foldable propellers. This long-term compatibility can save you some money when you move from the old generation to a newer one.
Another major advantage of the new X8 SE 2022, is the improved weather protection. Fimi stands that it can take wind gusts of level-8 and it is rain/snow proof. When you fly between mountains, the weather can change in just a few minutes, from sunny to stormy. Having the ability to safely return home regardless of the weather conditions makes the FIMI X8 2022 the ultimate adventure drone. Anyway, remember that it does not have any IP rating certification and it is not fully waterproof (can't be immersed in water!).
Xiaomi FIMI X8 SE 2022 in-depth review
Disclosure: We received this Xiaomi FIMI drone from RCGoing in order to test it and do an in-depth review. Although the product was offered for free, all opinions in this article remain our own, with no influence from our partners.
When I got the confirmation that the package was shipped out, I hoped to receive it before Christmas eve, and so it happened. Last weekend, I played a lot with this drone in order to cover in my review all important things, from image quality to battery life.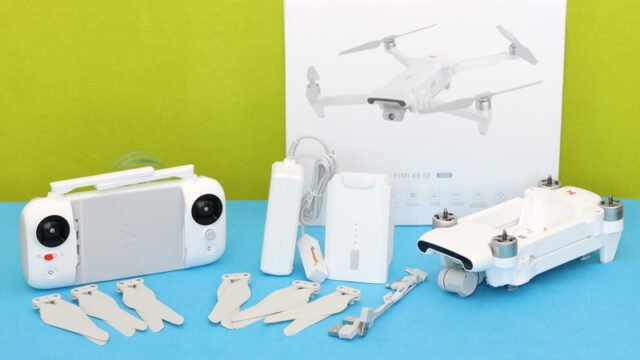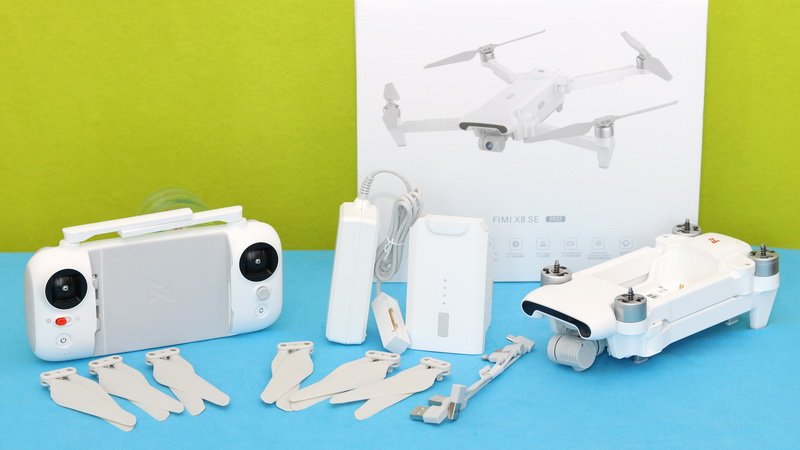 I received a basic kit in a cardboard box with the following accessories: Remote controller, AC/DC charger, flight battery, 3 pairs of propellers, and 3 types of phone USB cables (micro, Type-C, and Lightning). Instead of a plastic gimbal protector, it comes with a foam frame that seems disposable, not reusable. The manufacturing date on the box is November 2021, so it was shipped almost directly from the production line :)
At a glance
On the outside, the 2022 edition looks almost identical to the X8 SE and X8 2020. With folded arms, the FIMI X8SE 2022 measures 204 x 106 x 72.6mm and weighs 765grams with a battery and propellers. By comparison, the FIMI X8 MINI has a size of just 145x85x56mm and weighs only 249 grams. It's not quite as tiny or light as its little brother, but it is still easy to pack for a hike or trip.
The bottom of the drone is fully covered by an aluminium heat sink. An ultrasonic and an optical-flow sensor are found on the centre of the heatsink. It has 6 rubber landing pads (2 on the front legs and 4 on the belly).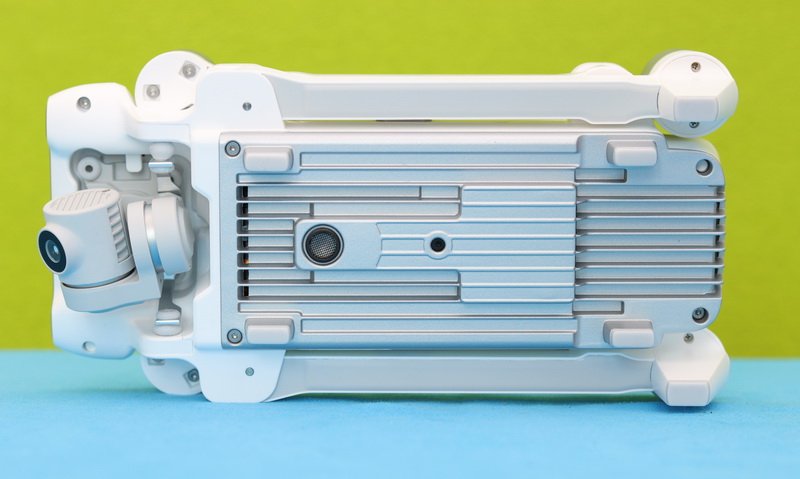 Looking around the outside of the drone, you'll notice a rubber flap that protects the micro SD slot, USB service port, reset button and radio bind switch. You can load up to 256GB U3 memory cards.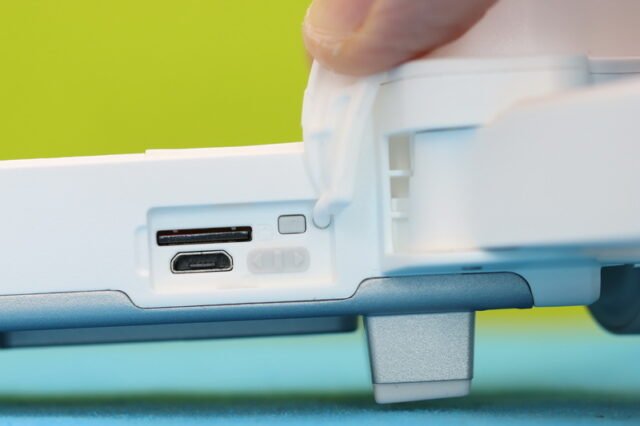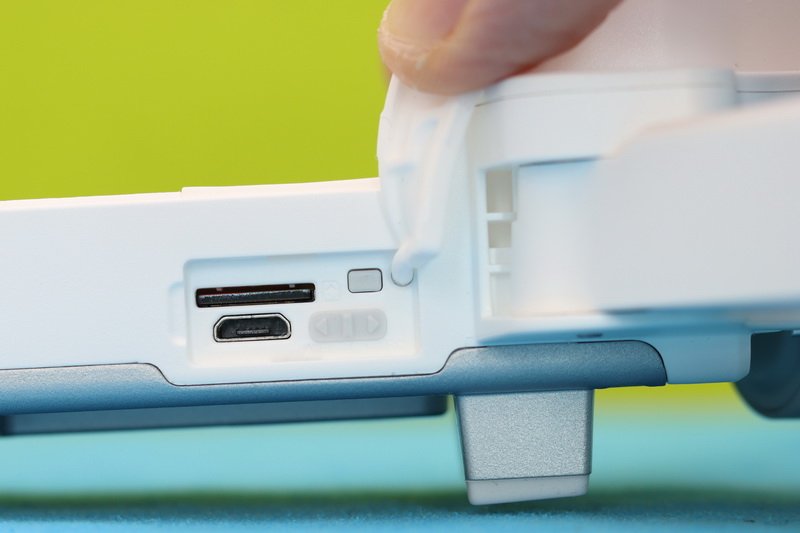 The FIMI X8 2022 is equipped with easy to install/remove quick-release foldable propellers (LXJ02A5). Remember that there are two types of blades (clockwise and anticlockwise) and they need to be attached accordingly. A strip on the arm and the prop shows how to match them. Also, I suggest unfolding them manually before you take off. If you find the props in your way during transportation or it's time to replace them, simply push down and twist a little to remove them.
Overall, I like the design of the FIMI X8SE series. Structurally, everything feels solid and well build. My only minor complaint is that, like all FIMI's drones, it's only available in one colour: arctic white. Update: Few hours after I published my review, Xiaomi announced that it will be available also a grey version.
Price and availability
If you'd like to get your hands on this exciting adventure drone, we have good news – it's available to buy right now from the RCGoing online shop with free shipping and included taxes for most countries.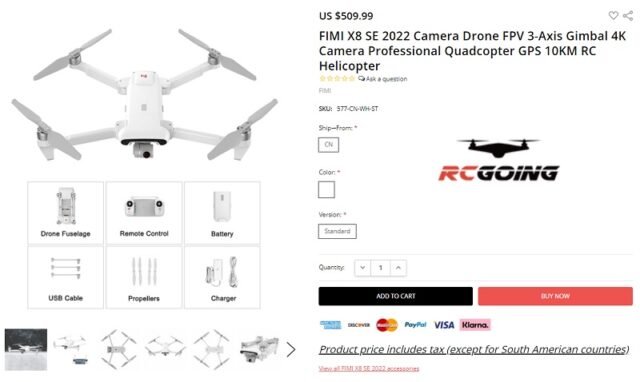 As is often the case with FIMI drones, the X8SE 2022 is available in a standard kit only without Fly More Combo options as DJI has. The kit shown in this review consists of the drone, controller, one battery, a charger, three pairs of propellers and all cables, and costs $509.99. Additional batteries can be ordered for $79.99/piece.
Camera
It features a 48MP Sony 1/2″-inch image sensor, with the camera providing a 79-degree field of view or a full-frame equivalent focal length of 25mm. It has a fixed f/1.6 aperture with a focal distance of 4.71mm. The FIMI X8SE 2022 can record 4K@30fps, 2.7k@60fps or 1080p@fps videos. Similar resolutions are offered by the tiny FIMI X8 MINI and the DJI MINI 2.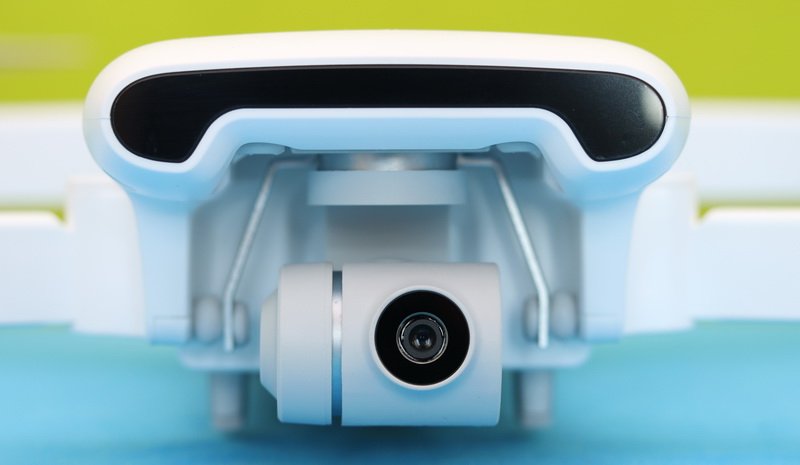 FIMI stands that thanks to the bigger sensor, the 2022 edition has better low-light performance allowing to capture much clear night footage. The camera has HDR in both photo and video modes.
Fimi X8 2022: Battery life
Like the entire X8SE series, the 2022 edition is also powered by the same 3s/4500mAh (51.3Wh) battery. The smart LIPO pack has four charging level indicator LEDs and a proprietary balance charging port.
The maximum flight time of the FIMI X8 2022 is a respectable 35 minutes. This claim is for when there's no wind, so when factoring in the weather and the Return-To-Home function (which kicks in when the battery reaches 30%), we found that flight times are often around 23-25 minutes per charge, depending on your flight conditions. If you stress the battery to 5% it can stay in the air for about 29-30 minutes.
Fimi X8 2022: Remote controller and flight range
In terms of design, the remote controller looks exactly like the old ones. Same big size with the rubberized expandable handlers. The transmitter can accommodate mobile devices wide as 20 cm.
In addition to the two removable control sticks, there are a red RTH switch, a Power button, and 4 charging level indicator LEDs on the left, and a 5D mini-joystick and Take-off/Land button on the right. It has two shoulder dials, the left one controls the pitch angle of the gimbal and the right one can adjust EV/ISO. Camera buttons are on the back of the RC, the left one starts/ stops recording and the right one takes still photos. Charging and Phone USB ports are on the bottom behind a rubber flap.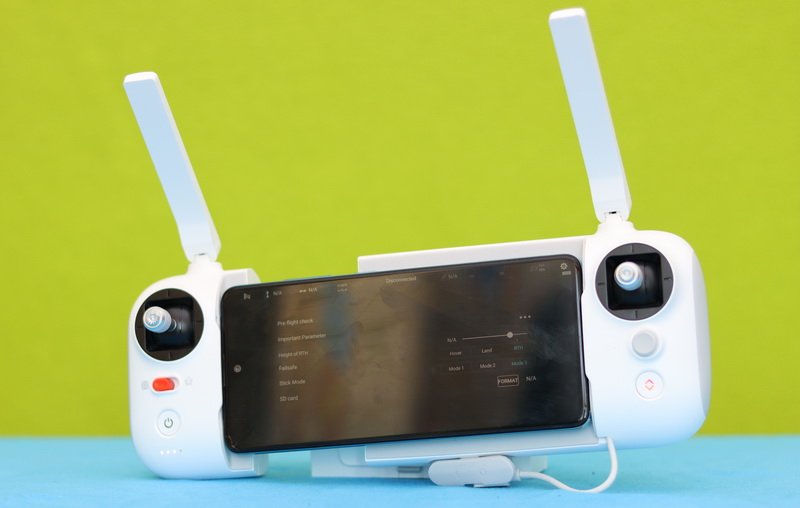 FIMI X8 2022 features a third-generation RokLink communication system that provides not just a longer range (up to 10km) but also a smaller latency (130ms). By comparison, the X8 2020 uses a second-generation TDMA radio system that provides an 8KM range with 220ms latency. During my tests, at 70 and 100m altitude, I got an average of 5000 meters range. 
Among the X8 SE 2022, FIMI introduced a smart controller with a large built-in screen, similar to what DJI has.
Smart Flight Modes
Like most high-end drones, the FIMI X8 2022 also comes with a plethora of intelligent flight modes. These autonomous flying modes allow creating cool videos with little effort to control the drone, making the job easier for both beginners and experienced pilots.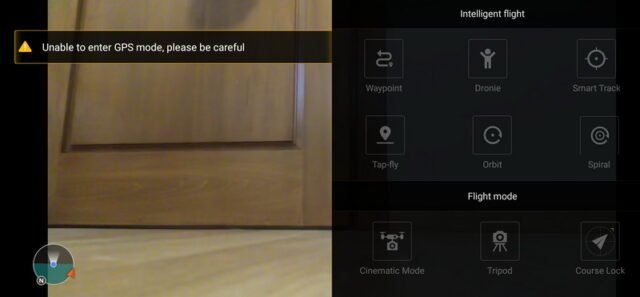 QuickShots:
Dronie – The drone method of taking selfies (the drone will lock onto its subject and fly up and back and automatically take a selfie);
Orbit – The drone will make a circle around the subject;
Spiral – Same as above but will fly in a spiral pattern around the subject.
Smart Tracking Mode (Visual Follow me)
Powered by AI technology, the drone can track your movements in three different ways. This is a great flight mode for outdoor activities as you will be able to record yourself from the air totally hands-free. The drone can track you from behind (Trace mode), track you from a parallel perspective (Profile mode), and track your movements from different angles (Lock mode).
Flight Planning (Waypoints)
In this intelligent flight mode, you will be able to draw a flight path on the FIMI Navi APP and the drone will automatically fly along that path and return to the take-off point. If you set a point of interest (POI), the heading will be locked at the POI.
Flight experience
Featuring triple satellite positioning (GPS+BEIDOU+GLONASS), it acquires satellites very fast. I was impressed to see that it found 7 satellites indoors through the window. Up in the air, it is very stable and easy to control even in moderate wind conditions. Maybe it doesn't look like a sports car, but it can achieve a top speed of 65KM/h (40mph).  
Precise landing
Thanks to the downside camera, the FIMI X8 SE can land directly on a landing pad. Its AI can recognize the shape/colors of the launch apron and land on it.